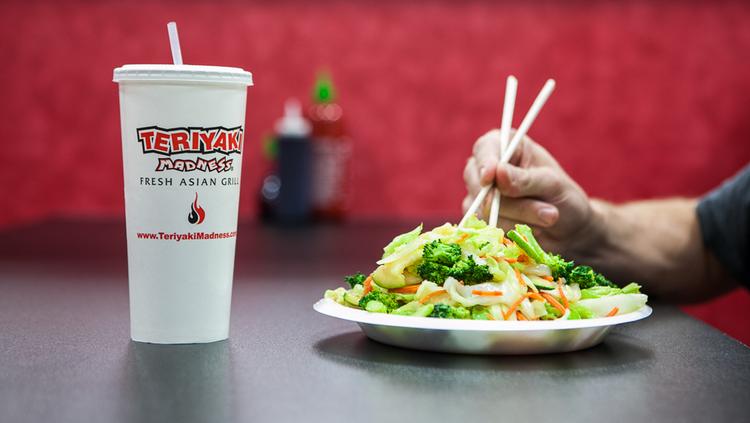 A fast-casual teriyaki restaurant chain has inked a new franchise deal to expand in the Phoenix market.
Denver-based Teriyaki Madness has plans to add 20 restaurants in the Valley as part of its largest-ever franchise agreement.
"This is a huge commitment for Teriyaki Madness, one that we feel will put us on track to get to a whole new level," said CEO Michael Haith. "We were already beginning to be positioned as a leader in the fast-casual Asian cuisine segment, and this puts us as a major frontrunner. We are looking forward to continuing and expanding our presence in the great city of Phoenix."
Teriyaki Madness operates one Valley location in Mesa, which opened in 2015. According to the company's website, the chain has a restaurant coming soon in Gilbert.
"The mega deal in Phoenix marks a significant time in the growth and development for the Teriyaki Madness brand," said Todd Owen, Teriyaki Madness vice president of development. "This sets us up perfectly for rapid penetration into the Phoenix market while also aligning us with our plans for national growth with experienced multi-unit operators."
Teriyaki Madness is known for its Seattle-style teriyaki, serving big bowls made-to-order with fresh ingredients. All dishes use all-natural meats that are marinated and grilled with noodles or three kinds of rice and fresh vegetables and served with one of seven home-made sauces. The average meal price is around $8.
Fast-casual concepts are the fastest-growing segment in the foodservice industry, according to QSR Magazine.
Asian food concepts are among the fastest-growing in the fast-casual restaurant segment. A number of teriyaki chains have locations dotted across the Valley including locally based Yogis Grill, which soon will open a location in downtown Phoenix.
Brevard Achievement Center (BAC), a 501(c)(3) nonprofit agency headquartered in Rockledge, Florida, that serves people with disabilities, announced that it will bring the first of five Teriyaki Madness restaurants to Florida under the ownership of Brevard Achievement Center Franchise LLC (BAC Franchise), a wholly owned subsidiary of BAC. The inaugural Florida location will open on July 31 within Colonial Plaza in Orlando with a second location to open in late fall at the Crosslands shopping center in Kissimmee. All BAC Franchise locations will be managed by general manager Zack Zonker.
Besides bringing delicious, healthier, fresh Asian food to the metro Orlando area this year and Brevard County in 2016, owning the Teriyaki Madness franchise will give BAC an additional opportunity to fulfill its mission to assist people with disabilities achieve personal success. This will be accomplished in two distinct ways: Net proceeds from each restaurant will be used to supplement underfunded programs and services at BAC recently impacted by government budget reductions, and employment opportunities will be available at each location for people with disabilities.
The newly opened Teriyaki Madness on Colonial Drive looks like any other casual restaurant in the area with one slight difference: It's owned by a nonprofit organization.
The "Chipotle of Japanese food," according to the Dallas Business Journal, serves bowls and combination plates that include meat, rice or noodles, and some type of salad for under $10.
The restaurant, which opened Friday, is owned by the Brevard Achievement Center, an organization based in Rockledge, Fla., dedicated to helping people with disabilities achieve personal success by helping with employment and life skills, according to its website. The group bought franchise rights last year to open five Teriyaki Madness restaurants in Orange County and Brevard County, says BAC's spokesperson Rosalind Weiss.
Click here for the full article.