Blaze Pizza, Teriyaki Madness, Smashburger and more set to open in Marina Dunes.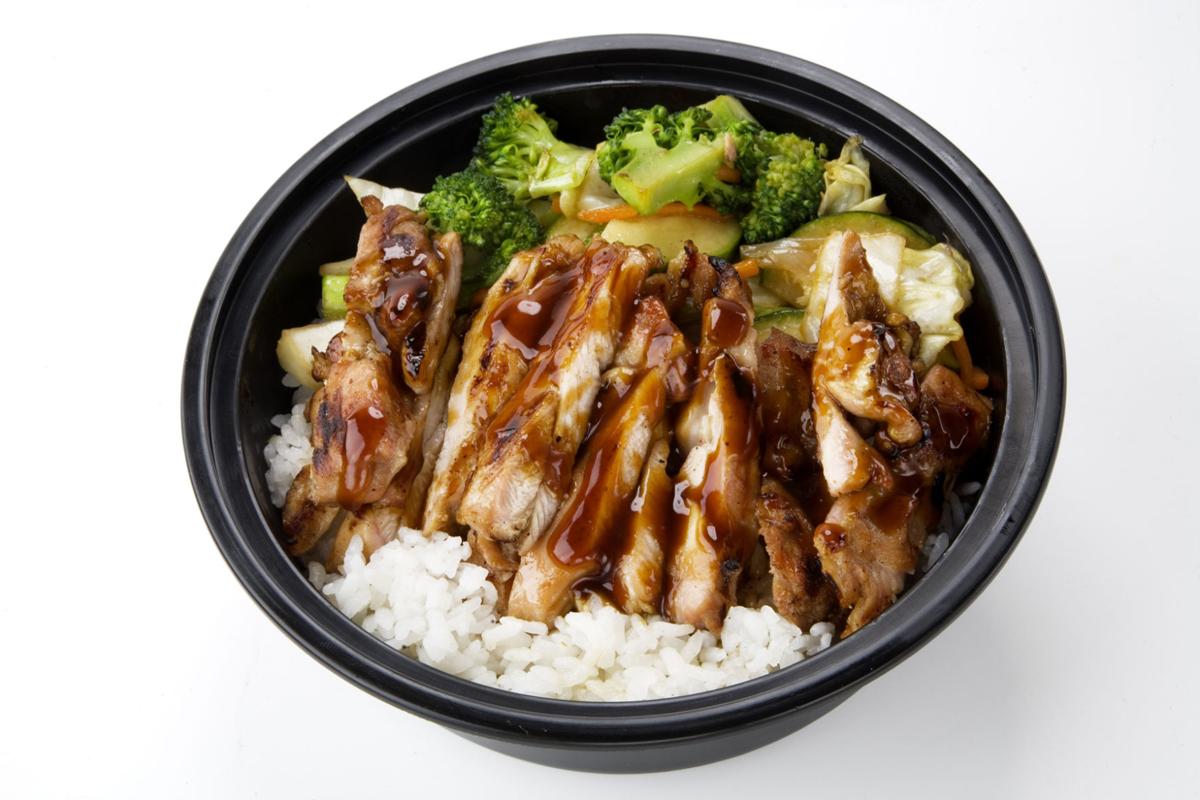 Teriyaki Madness' classic chicken action is a best seller.
The sheer volume of eateries makes Marina Dunes one of the biggest food stories of the year. (Check out No. 6 on "The next five biggest Monterey County food stories of 2016.")
The fact that it's happening in a place starved for choices makes it a godsend for residents and shoppers. (Like one Marina colleague told me, "It's been weird there haven't been eating options there. It was a glaring absence for a long time.")
The style and format of essentially each of the restaurants make it a telling local reflection of a nationwide trend. (That's the thrust of "Fast Forward: Monterey County's fast-casual food boom gets ready to explode.")
And all the anticipation makes me hungry.
Smashburger—one of a half-dozen plus debuts coming in the space of a few weeks (see below for date estimates)—starts dropping its classic smashes and truffle-mushroom burgers Wednesday, Dec. 7.
The cult hit introduces a burger exclusive to each of its increasingly numerous outposts. Here it will be the "Bay Burger" with baby arugula, sautéed crimini mushrooms, aged Swiss & truffle mayo on a ciabatta bun
A day later Teriyaki Madness throws doors open (Thursday, Dec. 8).
The Denver, Colorado-based "fresh Asian grill" is owned by local franchisees Jon, Lisa, David and Susan Marsh, who also own Oxi Fresh Carpet Cleaning.
Lisa Marsh has an idea what makes the madness happen.
"Our food is an exciting and much-needed addition to the less-healthy fast food establishments," she says. "We wanted to give our community a restaurant that serves up fresh meats and vegetables that are not only better for you but also delicious."
Holding a capacity of 49 people, the "Seattle Teriyaki house-style" spot enjoys 1,600 square feet; hours are 11am–9pm Monday through Saturday, until 8pm Sundays.
Then comes Blaze Pizza soft-opening Wednesday night, Dec. 14, with pies like the Veg Out (zucchini, mushrooms, red onion, mozzarella, gorgonzola, red sauce dollops) and Link In (Italian sausage, roasted red peppers, sautéed onions, mozzarella, red sauce).
There's more where that came from.
Below appears a reckoning on what happens and (roughly) when:
Blaze Pizza • A self-described fast-fired artisanal pizza like the "white top" includes white cream sauce with mozzarella, applewood bacon, chopped garlic, oregano, arugula.
Estimated open date: Within the next two weeks, probably around Dec. 7-10
Website: www.blazepizza.com
Other cool details: At Blaze Pizza customers can order from the "signature pizzas" menu or opt to eat a pizza totally of their own creation. Toppings and sauces are laid out in an assembly fashion, with everything ranging from the classic tomato sauce to artichokes and goat cheese. NBA champion LeBron James also happens to be a huge fan.
Chipotle • You may have heard of this Mexican joint too. Despite the recent E. coli outbreak associated with the chain, it remains the stalwart of the fast casual sector.
Estimated open date: Sometime in early January
Website: www.chipotle.com
Other cool details: Running for over 20 years, the Chipotle chain strives to deliver freshly made food from local produce at a reasonable price. Chipotle also recently added "brand spicing new chorizo" to the menu. Guac is still $2 extra.
Deli Delicious • Central Valley-born specialty sandwich chain with hot and cold subs – including the 29 with albacore tuna, sprouts, avocado and cream cheese – salads and sides.
Estimated open date: Sometime in early January
Website: www.deli-delicious.com
Other cool details: Exclusive to California, the Deli Delicious chain was voted People's Choice – Best Sandwiches from 2009-2015. Customers pick between a variety of cold and hot made-to-order sandwiches. And depending on your apetite, customers also choose the sandwich size, ranging from a four-inch sub to a footlong hero.
Jaffa Mediterranean Grill • The small San Luis Obispo-based chain offers a wide range of Mediterranean dishes and when it opens next year, will have an outdoor patio and 20 beers on tap.
Estimated open date: Sometime in Spring 2017 (The building for this restaurant has not been constructed yet).
Website: www.jaffacafe.us
Other cool details: This will be one of only four locations along with its own customized menu. Winners of the New Times "Best of SLO County – Mediterranean Food" for the past eight consecutive years, Jaffa serves "typical" Greek cuisine like gyros and hummus along with some slightly unusual options like "pita pizza."
Menchie's Frozen Yogurt • High-grade frozen yogurt with "real ingredients" and all sorts of cartoon characters like Mookie and the Cowabungaz to help pitch it.
Estimated open date: Sometime in early January
Website: www.menchies.com
Other cool details: Menchie's Frozen Yogurt pride themselves for using only fresh, hormone free California cow milk in their "custom blend of flavors." Like Pinkberry, Menchie's serves a wide array of toppings—from the healthy fruit options to boba pearls, cheesecake pieces, caramel turtles and marshmallow sauce. Menchie's also provides nonfat and no-sugar yogurt options, and made-to-order cakes, too.
Smashburger • As opposed to grilling, Smashburger's mantra is "smashing is better." Angus beef patties, and every franchise has a menu customized for the area.
Estimated open date: Within the next two weeks, probably around Dec. 7 – 10
Website: www.smashburger.com
Other cool details: Smashburger offers age-old classics along with premium burgers like the Bay Burger, served on ciabatta with truffle mayo and sauteed crimini mushrooms. Smashburger also provides vegetarian burgers and gluten-free buns, and like all great burger chains, includes a secret menu with options like the Sin City Burger or PB&J Shake.
Starbucks • This little coffee franchise you may have heard of.
Estimated open date: Currently open
Website: www.starbucks.com
Other cool details: The red cups are back. Starbucks is offering seasonal classics like the Eggnog and Gingerbread Lattes, along with some new holiday concoctions like the Chestnut Praline Latte and Honey and Almond Hot Chocolate. Of course, just like all other locations, customers are welcome to order drinks of their own creation as well, like an iced caramel macchiato with white mocha, four shots, and a couple inches of chocolate drizzle.
Teriyaki Madness • What appears to be a fresher version of Panda Express, with noodle bowls, rice dishes and orange chicken.
Estimated open date: Dec. 8
Website: www.teriyakimadness.com
Other cool details: These people are mad about serving fresh, all-natural and homemade teriyaki plates. All entrees are customizable, and while they pride themselves on delivering huge portions of meat, Teriyaki Madness offers vegetarian options as well.
Gabriela Joseph contributed to this report.